Safety Training By Topic
Organizations everywhere are responsible for keeping their employees and visitors safe. In some cases, there are laws requiring certain steps or requirements; in others, you have to deal with workers complaints or government auditors and investigators, while on still other instances you have a bunch of paperwork to do to meet safety regulatory compliance requirements.
Regardless of your needs, we have a variety of courses that help you better understand the applicable safety laws and requirements.
OSHA Training
The Occupational Safety and Health Administration (OSHA) was enacted in 1970 to ensure safe and healthful working conditions for working men and women by setting and enforcing standards and by providing training, outreach, education and assistance. The following are our three best-selling OSHA training seminars: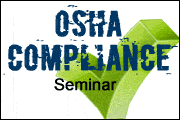 For more information abut OSHA, go to https://www.osha.gov/aboutosha.
Workers' Comp Training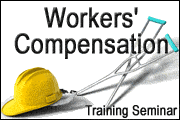 Whether you are a new or experienced Workers Compensation manager, if you have Workers Compensation responsibilities at your workplace - or are overwhelmed by the sheer number of tasks associated with it - you may need some help to simplify things and help you get the basic time- and cost-savings processes in place. And our Workers' Compensation training courses can help!
Safety Training
From first aid to Logout Tagout, there are many areas of safety training to help insure the safety of your workforce. Simply click the applicable link(s) for more details on a specific topic.
Investigations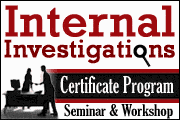 Whether dealing with a safety-related accident - and the applicable reporting requirements - or dealing with a case of theft, fraud, harassment, we have the safety investigations training for you.
Administration
Oh, boy! Government regulations and paperwork! Below are links to some of the required safety administration requirements.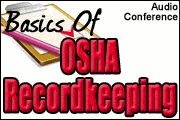 Find Seminars, Webinars, And Online Training In Your Area
Questions? Email or call us at 770-410-1219 at any time.