Cal/OSHA Training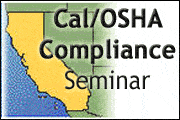 Seminar: ID# 1003652
Pricing: $199.00
About This Course:
Whether you have one employee or hundreds ... as their employer, you are responsible for their safety.
Maintaining a safe workplace environment is more than just good business practice - it's the law.
Attend this powerful one-day seminar, and discover how to make sure your workplace is safe, secure, and Cal/OSHA compliant.
In just one day of intensive, fast-paced training, we'll cover all of the latest regulatory information concerning safety, health, and environmental issues in the workplace.
You'll discover dozens of cost-effective ways for getting your organization into compliance, learn how to expand the effectiveness of your safety training program, find out how to keep the meticulous records required by Cal/OSHA, and learn how to assess your organization for a variety of hazards.
We'll also show you where to turn for up-to-the-minute information on Cal/OSHA's newest rules and regulations, so that you can keep abreast of changes that might affect your work environment. This seminar will set your mind at ease and make sure that when Cal/OSHA knocks on your door, you'll be ready!
Sign up for this seminar now - and avoid costly Cal/OSHA slip-ups in the future!
What You'll Learn:
The latest changes in Cal/OSHA rules and regulations - how will they affect your organization?
Making sense of Cal/OSHA's confusing language and government "legalese"
How to assess your organization for potential hazards and act now to eliminate them
Your written safety plan - what it is, how to create it, and where to find online forms and guidelines to help
Could your organization pass a Cal/OSHA inspection tomorrow? Here's how to find out
How to maintain meticulous records that meet Cal/OSHA standards
Workplace violence - how to spot red flags and keep workers and visitors safe from threats
Continuing Education Credits:

Click the 'Credits' tab above for information on PHR/SPHR, PDCs, and other CE credits offered by taking this course.