WorkPlace Safety Training
Best-Selling Training Courses:
Self-Study Materials
WorkPlace Safety Training
OSHA requires employers to provide training to workers who face hazards on the job. OSHA Rules for safety construction are posted as Title 29, Code of Federal Regulations Part 1926 and Part 1910. These contain training standards applicable to construction work with which employers must comply.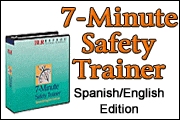 Information on these rules can be found at the OSHA website as follows:Workplace Safety Training Programs, Signs, Posters, Videos, Guidebooks, and More!

Have safety issues in the workplace? Need safety training? We can help!

The Safety Training Center offers a variety of workplace safety signs, posters, and training materials to cover all workplace safety topics and needs. We offer:
Workplace safety signs

Workplace safety posters

Modern workplace safety videos

Self-study and online workplace training programs

Workplace safety facts tips and guidebooks
Don't wait! Act today to solve your problems with safety in the workplace!
Find Workplace Safety Signs, Posters, Modern Workplace Safety Videos, And Other Workplace Safety Training Products & Services
To find your desired workplace safety training, select "WorkPlace" from the "Professional Development" section of the search box below.
Best-Selling Training Courses:
Self-Study Materials
Find Seminars, Webinars, And Online Training In Your Area
Share on Facebook
Share on Twitter
TheSafetyTrainingCenter.net. 5755 North Point Parkway, Suite 227 | Alpharetta, GA 30022 | 770-410-1219 | support@TheSafetyTrainingCenter.net
Copyright TheSafetyTrainingCenter.net 2023 | Web Site Development by OTAU