Safety Incentive Programs
Best-Selling Training Courses:
Instructor-Led: Webinars
About Safety Incentive Programs
According to OSHA, "a safety incentive program encourages or rewards workers for reporting injuries, illnesses, near-misses, or hazards; and/or recognizes, rewards, and thereby encourages worker involvement in the safety and health management system."

A good Safety Incentive Program ensures that the program fits the goals and objectives of your organization, and should involve your employees in both the development and implementation.
Safety Incentive / Reward Program Training Courses
Incentive/Reward Programs are effective tools in reducing accidents. But if not designed correctly, OSHA will be pleased to hit your organization with fines in the thousands of dollars.

Specifically, OSHA has repeatedly stated that safety incentive programs that punish employees for getting injured are unacceptable, and that most existing safety incentive programs are nothing more than "blame the worker" programs because they "punish workers for reporting injuries, and they reward workers for not reporting injuries". As a result, OSHA is carefully inspecting safety incentive programs and looking for ways to cite companies for violating various OSHA Standards.

So if your organization has a safety incentive programs in place, you'll need to know what's acceptable, as well as what needs revising/updating.

What You'll Learn From Our Safety Incentive Programs Training Courses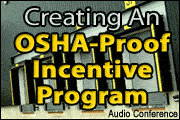 What OSHA says about incentive/reward programs

How OSHA cites employers for having or not having a safety incentive/reward program

The various types of safety incentive/reward programs currently being used

The differences between an incentive and a reward

What sort of programs actually work

How you can create a program or revise your current program so that it will both satisfy OSHA and improve our safety program

Elements of successful safety incentive/reward programs
Find Training Courses For Safety Incentive Programs
To find your desired Safety Incentive training courses, either select a Recommended Course from the list below, or select "Incentive Programs" and your state from the "Professional Development" section of the search box at the bottom of this page.
Best-Selling Training Courses:
Instructor-Led: Webinars
Find Seminars, Webinars, And Online Training In Your Area
Share on Facebook
Share on Twitter
TheSafetyTrainingCenter.net. 5755 North Point Parkway, Suite 227 | Alpharetta, GA 30022 | 770-410-1219 | support@TheSafetyTrainingCenter.net
Copyright TheSafetyTrainingCenter.net 2023 | Web Site Development by OTAU