2020 Safety Training Webinars
Listed below are our 2020 safety training webinars. Most are available via live, CD, and On-Demand formats, and many offer industry-specific credits.
Tips For Completing, Storing, And Destroying Your Form I-9s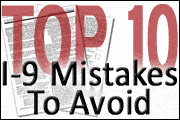 The Form I-9 appears to be simple, yet more often than not, the forms are not completed correctly. Many employers are surprised to learn that errors in Form I-9 completion and administration can lead to steep fines and penalties. Through training and plenty of examples, learn how to avoid mistakes in I-9 administration!
Available Versions:
H-1B Visa Training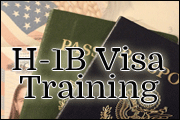 The webinar covers the H-1B basics, such as when a U.S. employer should engage in the H-1B process and what roles the U.S. employer, employer's attorney, and H-1B worker play in the process.
Available Versions:
Workers' Comp 101: The Whats, Whens, And Whys
This 90 minute training session will provide you and/or your team with a better understanding of how workers' comp works, plus how you can directly impact claim outcomes and costs.
Available Versions:
Recorded. Also available via On-Demand
Looking for other online OSHA training courses and webinars? We cover many OSHA training topics to help with your OSHA training requirements. Either check out our on-demand webinars or our home page to see a variety of OSHA training topics.
Find Seminars, Webinars, And Online Training In Your Area
TheSafetyTrainingCenter.net. 5755 North Point Parkway, Suite 227 | Alpharetta, GA 30022 | 770-410-0553 | support@TheSafetyTrainingCenter.net
Copyright TheSafetyTrainingCenter.net 2018 | Web Site Development by OTAU