2020 Safety Training Webinars
Listed below are our 2020 safety training webinars. Most are available via live, CD, and On-Demand formats, and many offer industry-specific credits.
Successful Strategies For Running An 'HR Department Of One'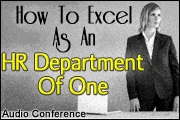 A one-person HR shop is all things to all employees and managers, so they need to know a lot about a lot and they also need to know when to stop and seek advice. This audio conference will assist the one person HR department in making a plan to prioritize the operational, compliance, and people needs of the business.
Available Versions:
Live on: 1/5/2021. Also available via On-Demand
Managing Your Unemployment Insurance Liability In Light Of The Coronavirus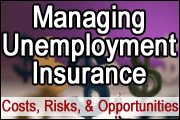 This audio conference provides an update on federal and state Unemployment Insurance issues, assesses the risks and costs associated with UI taxes and benefits, and discusses effective UI tax management and cost control techniques.
Available Versions:
Live on: 1/13/2021. Also available via On-Demand
Workers' Comp 101: The Whats, Whens, And Whys
This 90 minute training session will provide you and/or your team with a better understanding of how workers' comp works, plus how you can directly impact claim outcomes and costs.
Available Versions:
Recorded. Also available via On-Demand
Looking for other online OSHA training courses and webinars? We cover many OSHA training topics to help with your OSHA training requirements. Either check out our on-demand webinars or our home page to see a variety of OSHA training topics.
Find Seminars, Webinars, And Online Training In Your Area
TheSafetyTrainingCenter.net. 5755 North Point Parkway, Suite 227 | Alpharetta, GA 30022 | 770-410-0553 | support@TheSafetyTrainingCenter.net
Copyright TheSafetyTrainingCenter.net 2018 | Web Site Development by OTAU