2019 Safety Training Webinars
Listed below are our 2019 safety training webinars. Most are available via live, CD, and On-Demand formats, and many offer industry-specific credits.
Return-To-Work Strategies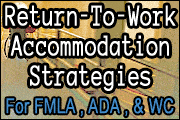 Learn how to have an organized, simple, and documented assessment process to accommodate returning employees to work who have not fully recovered from occupational injuries.
Available Versions:
Live on: 10/1/2019. Also available via CD, On-Demand
Looking for other online OSHA training courses and webinars? We cover many OSHA training topics to help with your OSHA training requirements. Either check out our on-demand webinars or our home page to see a variety of OSHA training topics.
Find Seminars, Webinars, And Online Training In Your Area
TheSafetyTrainingCenter.net. 5755 North Point Parkway, Suite 227 | Alpharetta, GA 30022 | 770-410-0553 | support@TheSafetyTrainingCenter.net
Copyright TheSafetyTrainingCenter.net 2018 | Web Site Development by OTAU