OSHA Compliance For Healthcare Professionals
Seminar: ID# 1003997
Stay up-to-date on the latest regulations for bloodborne pathogen exposure, needle sticks, sharps disposal and OSHA guidelines for dental and medical offices!

This training session is available in both in-person and video conference formats. Same great training; you simply decide which format best fits your needs!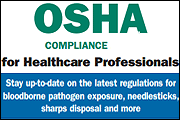 Upcoming Seminars:
We are sorry, but there are no in-person dates currently available for this course. We suggest you either search for another course, bookmark this page and check back later, or contact us to be notified when dates for this course are again available.
TheSafetyTrainingCenter.net. 5755 North Point Parkway, Suite 227 | Alpharetta, GA 30022 | 770-410-0553 | support@TheSafetyTrainingCenter.net
Copyright TheSafetyTrainingCenter.net 2023 | Web Site Development by OTAU