OSHA Compliance For Healthcare Professionals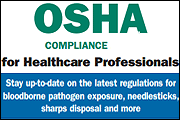 Seminar: ID# 1003997
Pricing: $149.00
About This Course:
Stay up-to-date on the latest regulations for bloodborne pathogen exposure, needle sticks, sharps disposal and OSHA guidelines for dental and medical offices!
OSHA has developed today's medical and dental practice standards to ensure a safe, hazard-free environment for you, your staff and your patients. You may be "pretty sure" or "almost certain" you're in compliance with OSHA's latest standards, but with OSHA, there's no margin for error.
This seminar was designed to cut through the confusion and hone in on what you need to know to ensure your practice is fully compliant.
Noncompliance with OSHA is serious business, and can cost your practice dearly. In fact, a single citation for a serious violation can carry a monetary penalty of up to $7,000, while repeat violations may reach upwards of $70,000!
Don't just think you're in compliance ... know you are!
OSHA Compliance for Medical and Dental Practices is packed with critical information, tools and techniques to help medical and dental professionals avoid fines and penalties, and ensure their practices are in complete compliance with OSHA standards.
OSHA has bumped up onsite inspections, tightened record-keeping requirements and made identifying violations a top priority. Make sure your healthcare practice is ready when OSHA comes calling - register for this seminar today!
Also Included: OSHA Workbook
To ensure what you learn stays with you, we're including a comprehensive workbook packed with valuable information, examples and other supplementary OSHA compliance materials. The workbook alone is worth the price of this course! Back at the office, you'll turn to this manual again and again for answers to all kinds of OSHA dilemmas, questions and concerns.
What You'll Learn:
Log employee incidents properly

Maintain records in accordance with OSHA's record-keeping requirements

Pinpoint hidden or overlooked safety and health issues

Establish a Hazard Communication program to keep hazard awareness current

Ensure your practice is up-to-date on BBP, Needle stick and OPIM regulations

Comply with Exit Route standards - signage, lighting, diagrams, markings

Prepare for an OSHA inspection

Promote a culture of safety throughout your entire practice
Just one day for our training course ensures your practice is OSHA compliant and inspection-ready.
Continuing Education Credits:

Click the 'Credits' tab above for information on PHR/SPHR, PDCs, and other CE credits offered by taking this course.