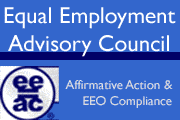 About The Training Provider:
Center for Workplace Compliance
The Center for Workplace Compliance (CWC) is the nation's leading employer association dedicated to helping its members understand and manage their workplace compliance requirements and risks.
Our members are leading employers committed to the principles and practice of workplace compliance, diversity and inclusion, and the sensible regulation of the U.S. workplace. They include businesses and organizations of all sizes, including for-profit corporations, nonprofit organizations, and educational institutions, and are represented in CWC by their senior-level HR executives, in-house employment counsel, ethics and compliance officers, diversity and inclusion leaders, talent acquisition professionals, and compensation principals.
Headquartered in Washington, D.C., CWC is staffed by an experienced team of labor and employment attorneys, policy analysts, compliance specialists, and member services professionals who serve the association's member employers by researching, analyzing, and delivering practical information and guidance across all HR functions in the areas of:
- Fair Employment
- Diversity and Inclusion
- Contract Compliance
- Wage and Hour
- State Standards
- Workplace Immigration
- Labor Relations
- Public Policy
What Customers Are Saying

All of the information that was covered was very helpful.
~ Diana Williams
Training By Center for Workplace Compliance