Cal/OSHA Compliance Training
Seminar: ID# 1003652
Whether you have one employee or hundreds ... as their employer, you are responsible for their safety.

Attend this powerful one-day seminar, and discover how to make sure your workplace is safe, secure, and Cal/OSHA compliant.

This training session is available in both in-person and video conference formats. Same great training; you simply decide which format best fits your needs!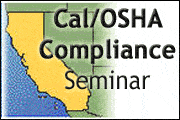 Upcoming Seminars:
Pacific Time Zone
1/20/2022
TheSafetyTrainingCenter.net. 5755 North Point Parkway, Suite 227 | Alpharetta, GA 30022 | 770-410-0553 | support@TheSafetyTrainingCenter.net
Copyright TheSafetyTrainingCenter.net 2018 | Web Site Development by OTAU