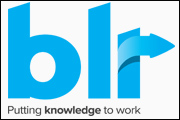 About The Training Provider:
BLR – Business & Learning Resources
BLR – Business & Learning Resources
As a division of Simplify Compliance, BLR is an industry-leading knowledge provider in the human capital management; environment, health, and safety; leadership development; and legal markets. BLR provides education solutions designed to help you deliver consistent training, achieve compliance, and maximize efficiencies in employee workflows, resulting in measurable performance and financial improvements.
Over 30,000 businesses turn to us each year for the knowledge and tools they need to respond quickly in today's continuously evolving business environment. In doing so, we help them run operations that are compliant, increase the development of their talent, and meet their business objectives.
What Customers Are Saying

All of the information that was covered was very helpful.
~ Diana Williams
Training By BLR – Business & Learning Resources