Safety Webinar, Webcast, & Audio Conference Calendar
Webcasts & Audio Conferences
Listed below are Safety webinars, Safety webcasts, and Safety audio conferences to help with your Safety training and Safety sales training needs.

To see more details or to order a particular event, simply click the title and follow the appropriate directions therein; to see events for future months, click on the desired month.
Featured Events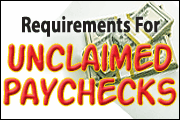 Requirements For Unclaimed Paychecks
9/13/2018
Amazingly, departing employees don't always collect all wages owed to them. Unfortunately, as a payroll professional, that becomes your problem — especially since fewer than 1 in 5 businesses comply with laws for reporting and submitting unclaimed payroll check and other property.
Webinar, Webcast, & Audio Conference Calendar

Aug 18|Sep 18|Oct 18|Nov 18|Dec 18|Topic/State
Webinars are typically posted 90 days in advance. Please select either another month or use the search box below to find training.
Aug 18|Sep 18|Oct 18|Nov 18|Dec 18|Topic/State
Want Your Event Listed?

Contact us to have your product, services, or events listed.
TheSafetyTrainingCenter.net offers safety training webinars, webcasts, and audio conferences to help with your safety training needs.