Safety Webinar, Webcast, & Audio Conference Calendar
Webcasts & Audio Conferences
Listed below are Safety webinars, Safety webcasts, and Safety audio conferences to help with your Safety training and Safety sales training needs.

To see more details or to order a particular event, simply click the title and follow the appropriate directions therein; to see events for future months, click on the desired month.
Featured Events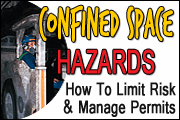 Confined Spaces Hazards: How To Limit Your Risks And Manage Permits
11/29/2011 - 10/3/2017
Join us for this informative audio conference which will focus on not only the technical aspects of confined spaces, but on the very important Entry Supervisor responsibilities, including completing the permit process correctly, ensuring proper training for Attendants, and how to be prepared for rescue operations.
Webinar, Webcast, & Audio Conference Calendar

Mar 18|Apr 18|May 18|Topic/State
Webinars are typically posted 90 days in advance. Please select either another month or use the search box below to find training.
Mar 18|Apr 18|May 18|Topic/State
Want Your Event Listed?

Contact us to have your product, services, or events listed.
TheSafetyTrainingCenter.net offers safety training webinars, webcasts, and audio conferences to help with your safety training needs.