Confined Spaces Training

Confined Space Training Courses

Every year, hundreds of workers suffer needless injuries, even death, due to inadequate understanding of confined spaces safety requirements.

Many workplaces contain spaces that are considered "confined" because their configurations hinder the activities of employees who must enter, work in, and exit from.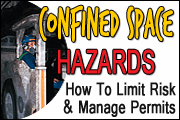 What You'll Learn From Our Confined Spaces Training:
What constitutes a confined space - and why understanding the definition is critical

The types of confined spaces and the procedures for entering each

The topics that employers must include in confined space training

Determining the classification of confined spaces using the Confined Space Decision Chart

Evaluating configuration, physical, psychological, and atmospheric hazards in confined spaces

Safe entry procedures for confined spaces - and why permit completion is so important

Responsibilities of Entrants, Attendants, and Supervisors

Types of safety equipment to use in confined spaces

Rescue procedures and how they impact the safety of Entrants, Attendants, and Supervisors

Why Lockout/Tagout is an essential part of confined space entry
Find Confined Space Training Courses

To find your desired Confined Space training courses, either select a Recommended Course from the list below, or "Confined Spaces" and your state from the "Professional Development" section of the search box at the bottom of this page.
Recommended Training Courses:
Webinars Or Audio Conferences
Books/CDs/Other Training Resources
Find Seminars, Webinars, And Online Training In Your Area
Share on Facebook
Share on Twitter
TheSafetyTrainingCenter.net. 5755 North Point Parkway, Suite 227 | Alpharetta, GA 30022 | 770-410-0553 | support@TheSafetyTrainingCenter.net
Copyright TheSafetyTrainingCenter.net 2018 | Web Site Development by OTAU