OSHA Recordkeeping Requirements
OSHA imposes a broad range of recordkeeping requirements, from forms to notifications and more. And though you may thoroughly comply with OSHA standards, if you are not in full compliance with its recordkeeping regulations, your company can still end up paying thousands of dollars in fines.
Our training courses for OSHA Recordkeeping Requirements will provide you with the tools, skills, and knowledge to make the correct recordkeeping and reporting decisions. Our training covers OSHA's new National Emphasis Program on Injury and Illness Recordkeeping, as well as how to avoid common recordkeeping mistakes (surprisingly, it seems that though most organizations ARE filling out the forms, they're just not doing so correctly - and are getting fines that are easily avoidable!).
What You'll Learn From Our OSHA Recordkeeping Requirements Training Courses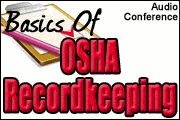 What needs to be recorded - and what forms to use

The rules regarding location, retention, and maintenance of records

How to identify work-related incidents and the general reporting criteria

Which OSHA files must be made available to employees

Dealing with injuries of independent contractors and temporary workers

How OSHA differentiates between injury or illness

Setting up an incident reporting system that will make sure your logs are correct

The National Emphasis Program on Injury and Illness Recordkeeping

The five most common mistakes companies make when filling out their logs – and how to avoid them!
Find OSHA Recordkeeping Requirements Training Courses
To find your desired Safety / EHS Metrics training courses, either select a Recommended Course from the list below, or select "Recordkeeping" and your state from the "Professional Development" section of the search box at the bottom of this page.