HazMat Safety Training Products
The Safety Training Center offers a variety of OSHA HazMat training courses, HazMat safety training videos, and HazMat educational products.
We've gathered the best of the best HazMat safety training courses, products, and training materials from industry-leading providers to offer you: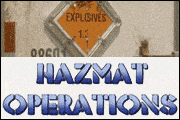 HazMat disposal training

Handling hazardous materials videos!

DOT HazMat training videos

Warehouse HazMat safety training

HazMat testing for cdl trucking

HazMat tech level training

OSHA HazMat training

OSHA training 2015 hazardous materials
…and more!

Find First HazMat Disposal Training, HazMat Tech Level Training, Hazardous Materials Videos, And Other HazMat Educational Products!

To find your desired first aid training videos, first aid training courses, and other first aid educational products, select "HazMat" from the "Professional Development" section of the search box below.