Construction Safety Training Products
The Safety Training Center offers a variety of construction safety training products and services. We offer hundred of safety training courses and products from industry-leading providers, including those for: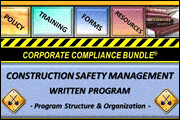 Construction safety manuals

Construction safety videos

Construction safety meeting manuals

Construction final inspection safety

Safety checklist construction

Construction signs and posters

Construction safety checklists
Find Construction Safety Manuals, Construction Safety Videos, And More!
To find your desired construction safety training products or services, select "construction" from the "Professional Development" section of the search box below.