Safety / Accident Investigation Training Courses
Even with a great safety system in place, there is always a risk of injury or a near-miss incident. When this happens, steps must be taken to prevent a future occurrence.
But unfortunately, safety managers and supervisors often get the call to investigate incidents that occur in the workplace. Problem is, untrained supervisors make preventable mistakes that come back and haunt them in court.
Our detailed accident investigation training courses takes you through the steps of an accident investigation, shows you how to find the actual cause, and how to develop effective corrective actions.
What You'll Learn From Our Accident Investigation Training Courses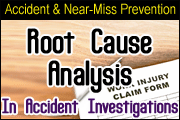 The legal obligations that require employers to conduct internal investigations

The areas that must be considered in an accident investigation

Why accident investigations fail - and how to avoid common pitfalls

How to collect and analyze evidence in order to establish the facts

How to establish a chain of custody and a confidential retention process

How to prepare questions for witness interviews and select appropriate interviewing locations

Tips for interviewing witnesses and the injured employee

How to document investigative findings

Best practices in handling disciplinary action and terminations to avoid stepping on legal land mines

An overview of tools used in, and principles of, "root cause analysis"

How to develop and implement corrective action recommendations

Key regulatory considerations regarding OSHA, worker's compensation, ADA and FMLA

How to handle citations and violations

The role of your company?s emergency response team
Find Accident Investigation Training Courses
To find your desired Accident Investigation training courses, either select a Recommended Course from the list below, or select from either "Accident Prevention" or "Investigations" and your state from the "Professional Development" section of the search box at the bottom of this page.